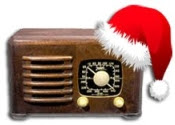 It's time for our third annual post showcasing Old Time radio Christmas shows. If you have missed the past posts, you can find them HERE and HERE This year, I have selected yet another set of classic Christmas shows to share, and I hope you will enjoy listening to them.
The first selection is from a show called Fibber McGee and Molly. This show was a comedy, and has some seriously funny moments, including many times that the main characters crack each other up during the show. There is also a good deal of word play and some involved puns, which I enjoy. This episode shows the Christmas Spirit of the McGees.
Fibber McGee and Molly – Fixing Broken Toys For Needy Children
Next up is an episode of the Jack Benny Show. Benny is considered one of the most influential comics of the 20th century, with his radio show running over 23 years. His self-deprecating style of humor and great supporting cast made for some very funny moments. If you enjoy comedy, I would encourage you to listen to this series. You will not be disappointed. This is one of the many Christmas episodes from the series, from 1944.
Jack Benny – Trimming The Christmas Tree
Now, here is an episode of the Tales of the Texas Rangers. The Rangers are a police force that has existed in Texas since the days of the Republic in the 1830's. Over the years, the Rangers have been the subject of many films and radio and television shows, and have made their imprint on pop culture. Two examples of this are the popular Lone Ranger, who was in reality a Texas Ranger, and the MLB's Texas Rangers baseball team. The radio show followed the adventures of Ranger Jayce Pearson, and this episode shows his good heart around Christmastime.
Tales of the Texas Rangers – Christmas Present
Continuing along, here is an episode of Night Beat, a show about the adventures of Randy Stone, who worked the night beat, writing a human interest column for a large newspaper. The show's topics are varied, and Stone isn't always the hero. He tends to be hard-nosed, but his human side always comes through. This series only ran for a couple years, but it is well done and interesting, even to today's standards.
Night Beat – Five Days off for Christmas
Now, to get to the meaning of the season, an episode of Lum and Abner. This series ran for over 20 years, following the antics of two small town friends. This is a shorter show, in the 15 minute format, and touches on a birth on Christmas eve.
Lum and Abner – Christmas Story
Lastly, an episode of Yours Truly, Johnny Dollar. Dollar is an insurance investigator whose cases are varied and well thought out. When this series ended, with it ended the 'Golden Age' of radio shows. I enjoy this series immensely. Several actors played the lead role, and while some were very dry and business-like, some were more laid back and portrayed Dollar with more humor and insight. This episode was actually written under a pseudonym by Bob Bailey, who also plays Dollar.
Yours Truly Johnny Dollar – The Carmen Kringle Matter
I hope you take the time to listen to these shows, and they can kick off your fall with thoughts of the upcoming Christmas Season.