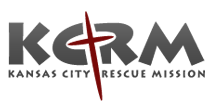 I was (finally) able to get downtown to KCRM this morning and drop off the donations from the light show this year. We padded it just a touch to make it an even $800. This is our largest donation total yet! I met with Julie, my primary contact at the mission, and she introduced me to a few other people, including KCRM Director Rev. Joe Colaizzi. It's funny how you can feel like you know someone by reading articles that they have written, and meeting him in person confirmed that he was the warm, gentle but firm person I thought him to be from his writing. Julie even provided me with a gift- a KCRM zippered hoodie! Pretty neat. Every time I visit, I am more convinced that I want to keep helping this great group of people.
Thank you to everyone who chipped in, and please rest assured that your donations will be put to good use.
For those of you who would like more information, please visit KCRM.org
If you would like to make a gift, you can do it directly through their gift page HERE.
While Christmas may be over, it is still cold and people still need the services that KCRM provides. Don't hesitate to help those who need it most.
-B